Polaris Bank Limited announces its 2023 Graduate Intensive Trainee Programme, open to B.Sc (2nd Class) or HND (Upper Credit) holders in any discipline. Applicants must have completed NYSC and possess five 'O' Level Credits, including English and Mathematics. The age limit is 25 years by December 31, 2023. Successful candidates will have the opportunity to work with skilled professionals across different functional areas.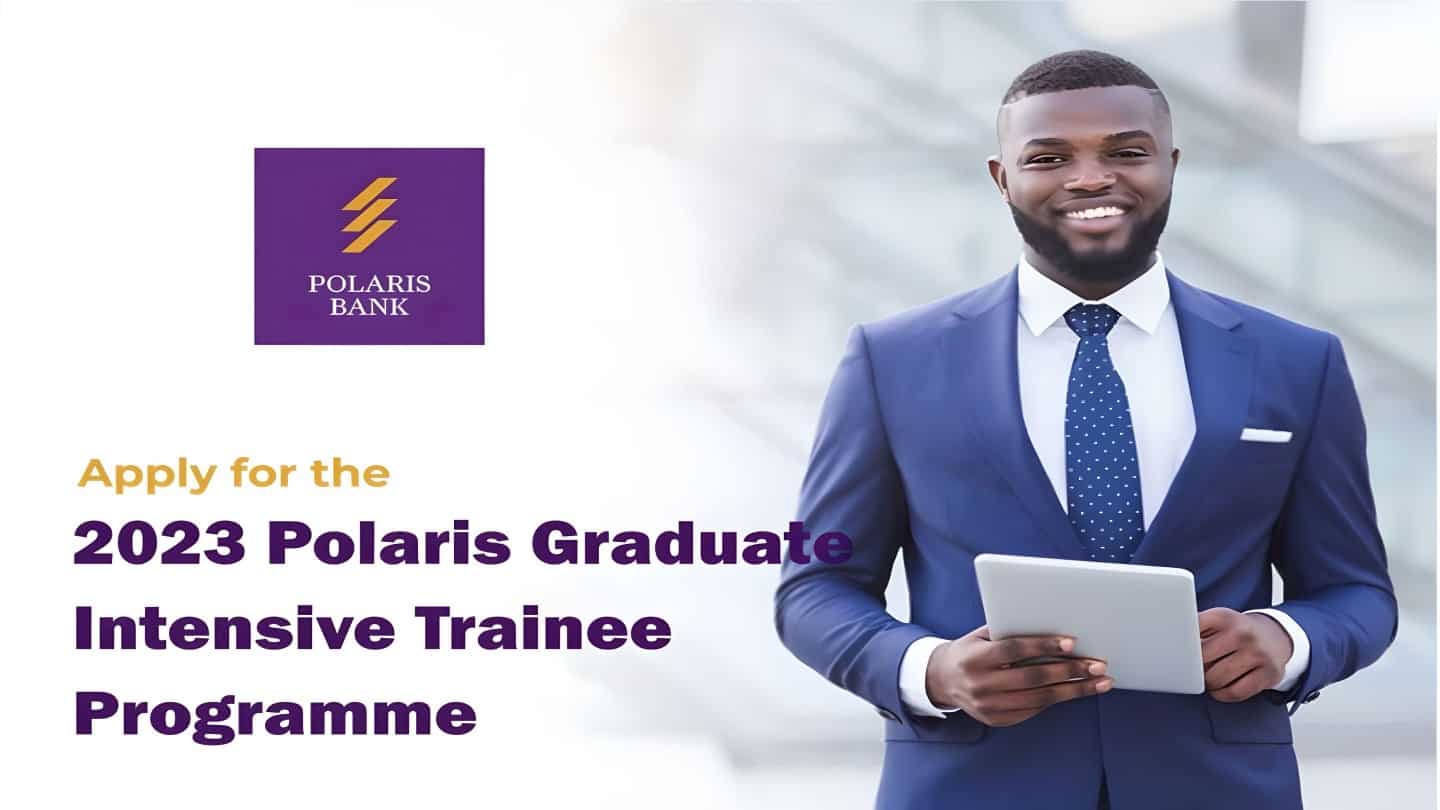 Polaris Bank Limited, a customer-centric and digitally-driven commercial bank, has officially launched its 2023 Graduate Intensive Trainee Programme. This program aims to nurture the next generation of talent, offering a unique platform for personal and professional growth in the banking industry.
Program Eligibility Criteria
To be eligible for the 2023 Polaris Graduate Intensive Trainee Programme, candidates must meet the following criteria:
Possess a minimum of a B.Sc (Second Class) or HND (Upper Credit) in any discipline.
Must have completed the National Youth Service Corps (NYSC) program and awarded a discharge certificate.
Possess Five (5) 'Level Credits that include English and Mathematics at not more than one sitting; WAEC or NECO Certificate is required.
Age not more than 25 years old by December 31, 2023. National Population Birth Certificate is required; Declaration of Age is not acceptable.
The Opportunity for Successful Candidates
Successful candidates will gain unparalleled experience working with highly-skilled professionals across various functional areas within Polaris Bank. This provides a chance to learn from some of the industry's best minds, gain real-world experience, and develop a robust skill set that is pivotal to a successful career in banking.
Application Process
Interested and qualified candidates can apply online through the provided link – https://www.dragnetscreening.ng/apply?details=296
The application closing date is set for July 3, 2023.
Please Note
Only shortlisted candidates will be contacted.
All applications must be submitted via the provided application medium and within the application period.
Multiple applications might lead to disqualification.
In conclusion, the 2023 Polaris Graduate Intensive Trainee Programme offers an extraordinary opportunity for recent graduates to launch their careers in the banking industry. It provides a holistic, in-depth understanding of the banking operations while also fostering necessary skills for a successful career. Aspiring candidates should seize this chance to become a part of one of Nigeria's leading commercial banks.
READ ALSO:
Fastest way to immigrate to Canada as a kindergarten teacher in 2024/2025
All you should know about the Nigeria Federal Government Scholarship
The Easiest Countries to get Scholarships in 2024/2025
Top 10 Forensic Science Scholarships in 2024/2025