Africa No Filter's Kekere Storytellers Fund offers micro-grants to African storytellers creating unique content that redefines Africa beyond stereotypes. Eligible applicants include content creators, journalists, and artists under 35 years old, based in Africa or the Diaspora, and with at least 5000 followers across various social media platforms. The fund aims to support projects that portray Africa as innovative, evolving, and creative, thus challenging the usual narratives. Funding ranges from $500 – $2000.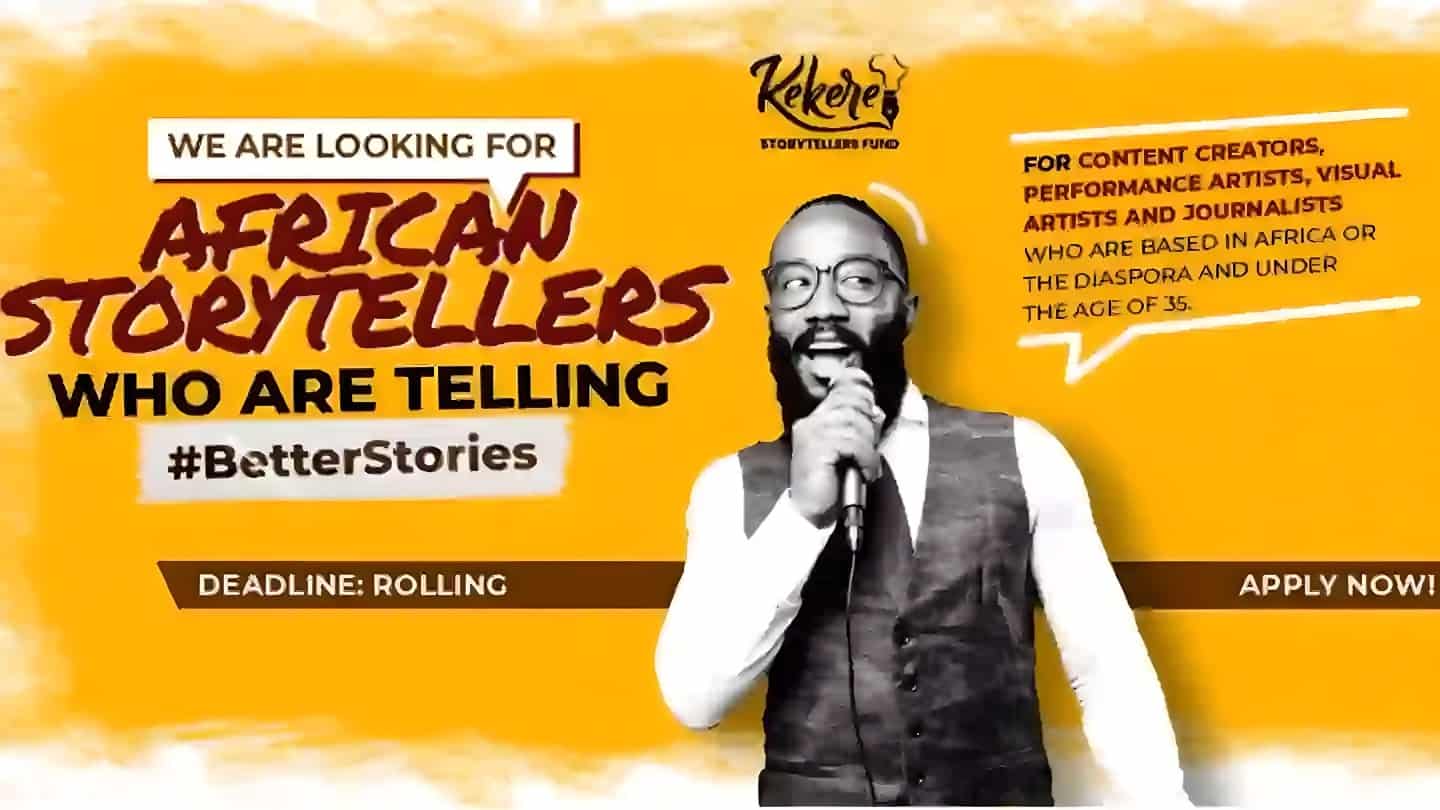 If you are a content creator, visual artist, performance artist, or journalist whose work challenges the stereotypical narratives about Africa, the Kekere Storytellers Fund, an initiative by Africa No Filter, could be your next big break.
This initiative is designed to provide micro-grants to emerging African storytellers who are dedicated to crafting unique content that showcases a fresh, innovative, and creative view of Africa, deviating from the often negative stereotypes associated with the continent.
About the Kekere Storytellers Fund
The Kekere Storytellers Fund is a testament to Africa No Filter's commitment to ensuring that financial resources, which are typically scarce and difficult to access for emerging storytellers, reach those artists, journalists, and content creators passionate about redefining Africa's narrative.
The initiative aims to show Africa as an evolving, innovative, and creative continent by supporting the creators who are on the ground, telling stories that matter, challenging stereotypes, and driving change.
Eligibility Criteria
To be considered eligible for this opportunity, you must:
Be an African based anywhere in Africa or the Diaspora.
Be under 35 years of age.
Be fluent in English or French.
Have a track record of producing ground-breaking work that challenges stereotypical narratives about your community, country, or the continent.
Have at least two years of related work experience.
Have a minimum of 5000 followers across platforms such as Twitter, Facebook, TikTok, Instagram, and YouTube.
Fall into one of the following categories:

Media/Content creator: Journalist, Blogger, Vlogger, Podcaster, Fiction & Non-Fiction Writer, Photographer.
Artist: Poet, Musician, Spoken Word Poet, Dancer, Painter, Sculptor, Illustrator, Animator.
Successful applicants may receive funding amounts ranging from $500 to $2000.
Application Details
Application for the Kekere Storytellers Fund is currently ongoing with no specified deadline. This initiative is ideal for anyone looking to expand their horizons and narrate the African story from a refreshing and unique perspective.
For more information and to apply, visit the official webpage of the Africa No Filter's Kekere Storytellers Fund.
Step forward and let your voice be heard. Together, let's tell the real African story and redefine the narrative of our beautiful continent.
READ ALSO:
Fastest way to immigrate to Canada as a kindergarten teacher in 2024/2025
All you should know about the Nigeria Federal Government Scholarship
The Easiest Countries to get Scholarships in 2024/2025
Top 10 Forensic Science Scholarships in 2024/2025